Flicka comes from the Netherlands in April 2012. She is a brown New Forest cross from 2005 and about 150cm tall. Flicka was sold to Sandra in September 2020, who also kept her other horse (haflinger Sancho) here in the herd. In December 2022, Sandra decided to move her horses to another stable in Ekshärad, closer to her home.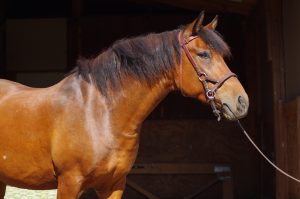 Frapsy is a dark brown Nord Svensk cold blood trotter horse from 2010. Frapsy lives with us from May 2018. His body had problems with the heave trails in the forrest but he is too young to retire. Hilke has always been in love with him so in October 2022 he moved to The Netherlands to have a great live in a free herd. And he is enjoying that he has only 1 owner, oké 2: Hilkes dad is also Frapsy fan.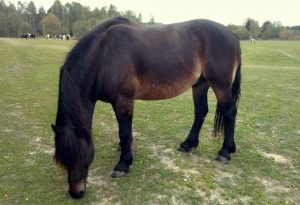 Moa is a Piebald Irish Cob Mare, born in 1999 and 155 cm high. She lives since December 2013 at the ranch.
Moa is born in a wild herd in Ireland on Carlow lass. When she was 1.5 years old she moved to Sweden and since then in possession of Anders Skoglund. The last year she started limping and it went bad very quickly. She seemed to have 'spat'. A very painfull version what did Anders decide that she didn't have to go through so munch pain. 5 oktober 2022 she galloped to the forever green fields.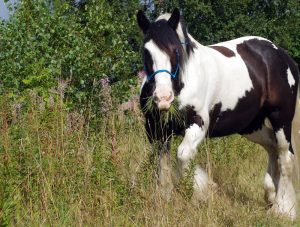 Dancer is a Mare from 2001 and 149cm high. She is a cross between a Pinto horse and a Nord Svensk riding pony. She is black with a few white markings and beautiful long mane. She's been with us since December 2008. The last years she had so much trouble and pain in her back, could give a foot anymore was getting greeny from the pain so 7 July 2022 we let her go to the green fields.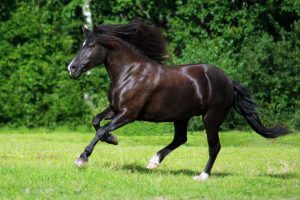 Djingo is a brown Mare from 1998 and about 150 cm. She is a Nord Svensk coldblood trotter horse and lives since October 2010 at the ranch. The last 2-3 years she had so much trouble and pain in her body that live was not nice for her anymore. 7 July 2022 she was able to go to the green fields.
Apache is a 3 colored pinto mare from 1999 of about 1.58. She is the same as our move from June 2008 to our ranch. She is a special horse with a mega energetic appearance. The work on the ranch became too hard for her and from autum 2021 she can enjoy her retirement with her former care-girl Kim. She is in a herd of mares with foals on 13 hectares in Friesland, the Netherlands.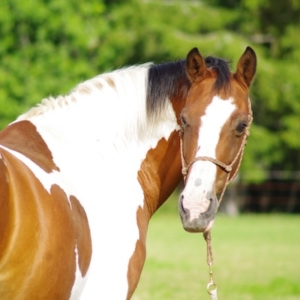 Indian Summer is a 1995 haflinger mare and 142cm high. She has been with us since January 2008 and moved from the Netherlands to Sweden. Summer had an eye removal surgery in October 2020 because she was diagnosed with cancer in her eye. She has fully recovered from this and has adapted well to life with only one eye. In October 2021 she moved to her biggest fan Mireille and is enjoying her well-deserved retirement in a paddock paradise in the Netherlands. She is in her 2nd youth despite her 26 years (when she moved in the autum of 2021).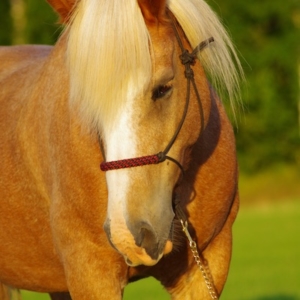 Chicks is a 3 color pinto mare from 2004 and 150cm high. She has been with us since September 2010. She is a Nord Svensk workhorse cross with American Paint stallion Vic Tim Rocket. Chicks is a sturdy and strong lady and beautifully colored! She moved to Kaylie in Belgium in October 2020. During her 3 months working holiday at the ranch, Kaylie fell in love with this slightly stubborn lady. They are exactly what both need. It was really hard to let Chicks go but knowing she's having a great time with Kaylie makes it a little easier…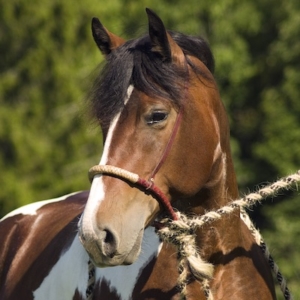 Coyote (Superior Zanna Quixote) is a sweet Quarter mare from 2007. She came to the ranch in July 2018. In August 2020 she moved to the Netherlands to Esmée and she is very happy with this sweet little bodybuilder who always wants cuddles.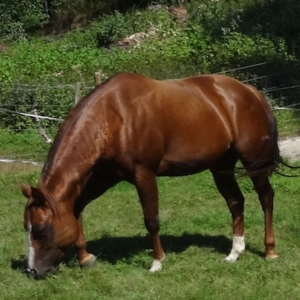 Boots is a large Quarter Horse gelding from 2001 and about 1.60 high. He is very dark buckskin and has beautiful caramel colored eyes! He has been with us at the ranch since June 2011. In July 2020 he was sold to Marleen in the Netherlands who really clicks with him. She is doing some nice groundwork with him and even picking up the driving again. We miss this sweet thoughtful horse!
Blacky is a black Shetland gelding from 2014. Blacky came to our ranch in March 2017. He suffered from summer eczema a lot here, but not where he lived (Sunne). In 2019 he was sold to a family with a sweet little girl who has completely fallen in love with him. He now lives in Sunne again and suffers much less from the eczema.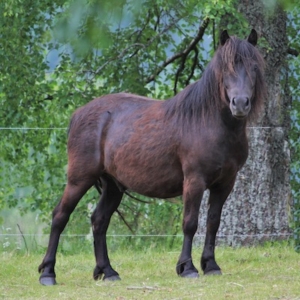 Lucky is a Warmblood gelding from 2002 and 165 cm high. After some negative experiences at previous owners he came to the ranch in March 2010. He's been mistreated in the past and in the beginning he was very afraid of everything. He always waited to see what was going to happen with new guests, but if you treated him with respect, he would like to work for you. Lately, he began acting a little grumpy and that was for me a sign that it was time for just one owner for Lucky and no longer each day with a new guest. He always was nervous because he never knew if he could trust anyone (old trauma). We had one guest who has been from the first day in love with Lucky and he had already been at the ranch three times. We told Martin about our plans. And after 2 weeks together with Lucky and a lot of working, playing, hiking, we both knew for sure; Lucky could go home with Martin. That would be the best present that I could give them both. This was a very difficult decision for me but when you see what a good connection those two have, I know that I've made the right decision!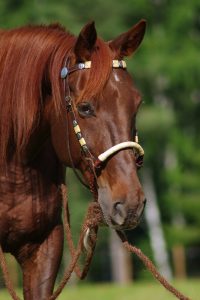 Spirit is the first foal that was born on Sun Dance Ranch on April 23rd 2010. It turned out that she was a very friendly giant horse, who was unfortunately very introvert. As a result of that, she had a very difficult time with all the different guests.
It gave a lot of tension in her body. Especially saddling was very difficult for her, she really tried her best, but once she was in the paddock the built up tension was too high and when the guest wanted to get on her back, she exploded. Not nice for her and certainly not nice and safe for guests. We did a lot of training with her, but unfortunately, not all the guests can' read ' her good enough.
When Janneke was training Spirit, she fell in love with her so we decided to give Spirit to Janneke. In October 2017, she moved to Aalst/Waalre in The Netherlands. In 2022 we got the message that Spirit is no longer alive. Janneke had to put her down because of an injury that was not healing anymore.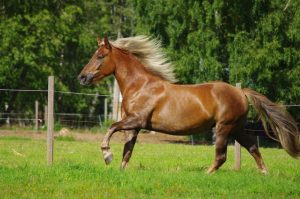 Kid was a beautiful black Nordsvensk Mare from 2001 and 155 cm high. She was with us since October 2008 and was one of the first Swedish horses that we bought. Kid was Anita's guide horse.
Unfortunately, after two years with health problems (in particular the limbs) and after trying everything, we had to let her go in November 2017.
Kid really loved swimming so many guests have been swimming in the lake with her. Kid was a real ' machine ' to ride! Those who were allowed to ride, where really impressed by this amazing horse!
It was so difficult to make the decision to let her go.. I've learned a lot from this special strong horse!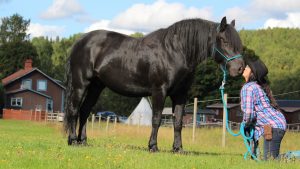 Sunny is a 3 colored variegated New Forest cross gelding from 2005 and about 140cm high. During a dental treatment we discovered that he had a leaky heart valve. So riding in the mountains became too heavy and risky for him, so we found a nice new owner in Marieke (our osteopath). Sunny moved to the Netherlands in September 2019 and is having a great time.